Usage and Billing
Data Pipelines offers tiered pricing to suit everyone's use case and budget.
Data Pipelines offers three pricing tiers, with the paid tiers offering some extra features and unlimited processing time.
Tiers
The free tier, Adopter, is free forever. All data connectors and the pipeline scheduling functionality are available with no limit on the number of pipelines you can have. The only limitations of this free tier are the amount of processing per month which is capped at 60 minutes and the number of users per Data Pipelines organisation which is just a single user. The only feature that is not available in this free tier is the ability to clone, export and import data pipelines. The free processing allowance is reset at the end of each month. Unused allowance is not carried over to the next month.
The paid Processor tier is designed to be cost efficient and be suitable for most commercial use cases. This tier does not have a limit on the amount of monthly processing. The base fee of £59  gives you 20 hours of processing with each additional hour charged at £1.66. So for example, 23 hours of usage in a single month would total 59 + (3 x 1.66) = £63.98
Billing occurs on the 1st of each month and your card on file is charged automatically. Invoices are available after the 5th of each month.
On top of the unlimited processing, Processor accounts can have unlimited users with all users having access to their organizations pipelines, data connections and schedules (more about this here).
The Enterprise tier lets companies host their own instance of Data Pipelines with various options for infrastructure customization, for example Apache Spark cluster parameters. An example scenario where you may want to consider this tier is if some of the data you need to process is stored on local hard drives. These hard drives would not be accessible externally, so a local installation of Data Pipelines would be needed.
Billing Dashboard
The billing dashboard is available under Account.
https://app.datapipelines.com/account
The billing dashboard gives users detailed information on the current and previous months' usage. Invoices are also available from here. The dashboard view will look different based on the account type (Adopter vs Processor). Adopter accounts will be able to see their remaining usage for the current month (Figure 1).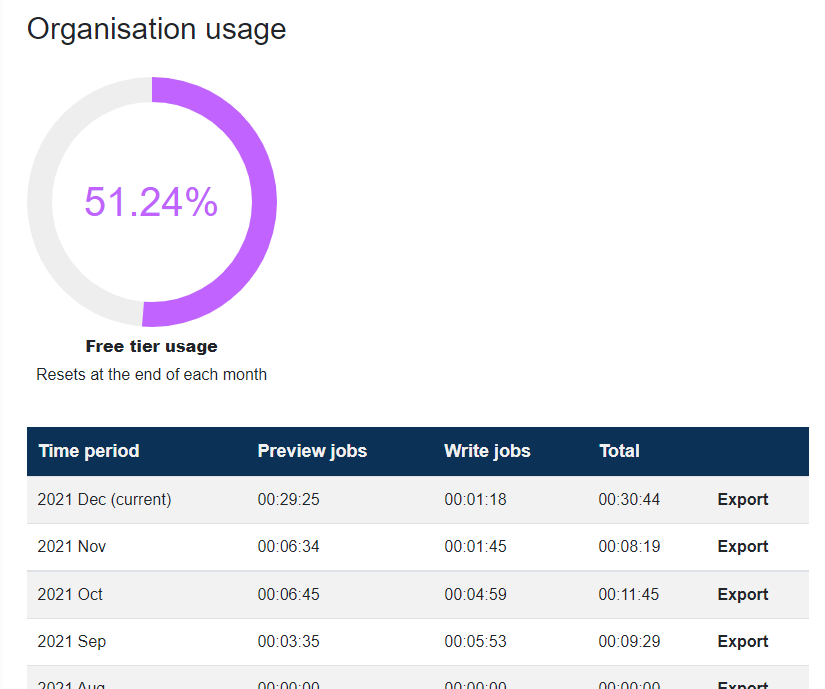 Processor accounts do not have a processing limit so there is no remaining usage allowance indicator. Instead, there is a button for downloading invoices.
Note that clicking the Export link next to the monthly usage will export a detailed breakdown of that month's usage in CSV format.
Upgrading to Processor tier
Go to Account and click Upgrade (Figure 2).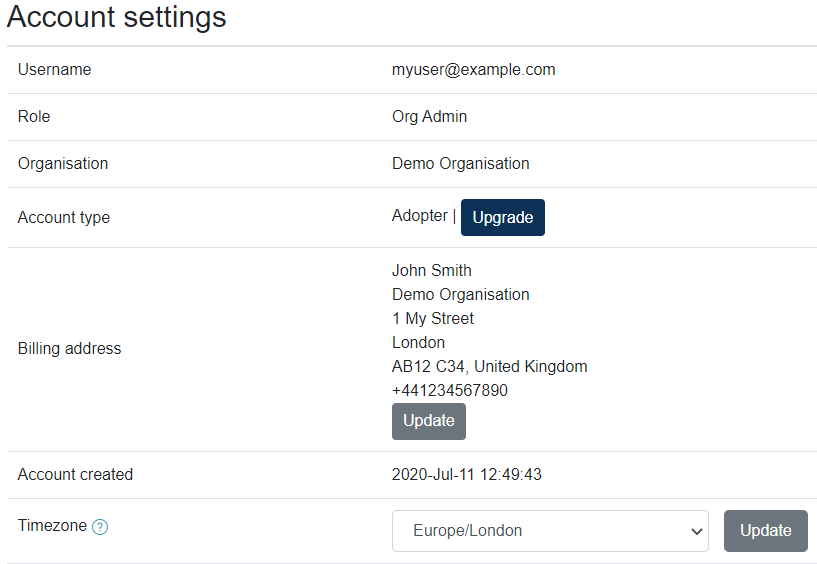 The billing address you enter will appear on your invoices.
It is possible to downgrade from Processor to Adopter by clicking Cancel Plan. Note that whether your card on record is charged at the time of cancellation depends on the amount of processing accrued so far that month. If the amount of processing accrued is less than 60 minutes then your card will not be charged as it fits within the free Adopter tier.
If you have any questions about usage or pricing or you would like to discuss upgrading, contact us.